Discover Over 20 Music Genres
from the Caribbean
Enjoy These 22 Caribbean Music Genres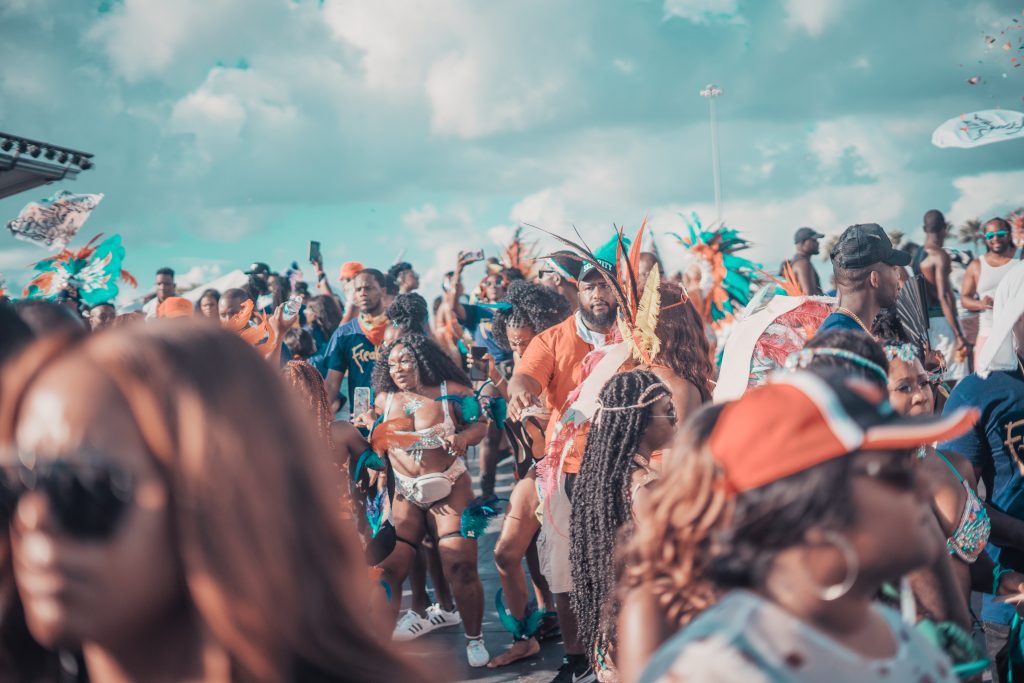 With 26 different countries and heritage linkages to Africa, Asia, Europe and the Middle East, the Caribbean is extremely rich in culture and in particular, music. The diversity and variety of music in the Caribbean is astounding. There are more than 20 different music genres coming from the Caribbean such as Rapso, Jing Ping, Chutney, Extempo, Cadence Rampa and so much more.
Can you imagine what the world would be like without Reggae, Steelpan, Calypso and Soca music?
So here are 22 types of music from 8 Caribbean countries for you to enjoy!
Brukdown
Brukdown is a music genre that was created in Belize. Brukdown is the music of Belize's Creole people and is influenced by both Africans and Europeans. The European influence on Brukdown is the use of the accordion. Wilfred Peters, famously known as, Mr. Peters was the pioneer in this genre of music. He is considered the 'Godfather of Brukdown' and is a national icon in the country of Belize. It is suggested that the word 'Brukdown' comes from 'broken down calypso' and when listening to brukdown, you can note some of the similarities with the genres.
Brukdown by Mr. Peters
Punta Rock
Belizean punta, more commonly known as punta rock, is a genre of music that derived in Belize. Created by Pen Cayetano, this music genre features traditional punta rhythms influenced and stylised by the Garifuna people. The Garifuna people are mixed African and indigenous people and this is reflected in their culture, art and music. In the Caribbean, Belize has some of the most Garifuna settlers.
Punta Rock by the Turtle Shell Band:
Tumba
Tumba is a music genre native to the ABC islands, Aruba, Bonaire and Curacao. Tumba is of African origin and was introduced to Curaçao in the 17th century and is known as the "Curaçao blues" because it was first sung by women slaves as a way to express their pain and sadness. Tumba is one of the most popular genres of music in these islands and contributes to the islands' cultural identity. Tumba is a large part of Carnival as Tumba Festivals are held and can also be heard in the parades. Tumba is sung in the islands' local language, Papiamento.
During Carnival the winner of the Tumba Festival is crowned Tumba King/Queen and makes their Tumba the official anthem of Carnival.
Rei di Tumba/King of Tumba 2020:
Jing Ping 
Jing Ping is a kind of folk music originated on the slave plantations of Dominica, also known colloquially as an accordion band. In Dominican folk music, jing ping bands accompany a circle dance called the flirtation, as well as the Dominican quadrille.
Jing ping bands are made up of a boumboum (boom pipe), syak or gwaj (scraper-rattle), tambal or tanbou (tambourine) and accordion. The double bass and banjo are also sometimes used.
Jing ping has influenced both cadence-lypso and bouyon.
Jing Ping music:
Bouyon
Bouyon music is a mixture of rhythms, melodies, and musical styles from genres, such as Soca, Zouk, and traditional genres native to Dominica.
The band WCK are often acknowledged for their contributions to the genre.
Bouyon by WCK: 
Cadence-lypso
Cadence-lypso is a fusion of cadence rampa from Haiti and calypso from Trinidad & Tobago. It originated in the 1970s by the Dominican band Exile One.
Popular Cadence-lypso artists: Exile One, Ophelia Marie, Midnight Groovers
Cadence-lypso by Exile One: 
Merengue
Merengue and the Dominican Republic go hand in hand. It is both the national music and national dance of the Dominican Republic and truly captures the spirit of its people. Merengue was developed in the mid-1800s and has both Spanish and African influences. The instruments used in a typical merengue ensemble represents the make-up of the Dominican culture as the accordion, the tambora, güira are used. These instruments represent the European, African and Taíno (indigenous people) influences.
Popular artists in Merengue: Juan Luis Guerra, Toño Rosario, Elvis Crespo
Merengue by Juan Luis Guerra:
Bachata
Bachata originated from the Dominican Republic in the early twentieth century. Bachata pairs Spanish influences with African and indigenous musical influences. Bachata music reflects the cultural diversity and history of the Dominican Republic.
Popular artists in Bachata: Frank Reyes, Anthony Santos, Romeo Santos
Bachata music by Frank Reyes:
Jab Jab
Grenada's J'ouvert, the start of Carnival festivities is known to feature the Jab Jab traditions. Jab jabs are a popular character in both Carnivals of Grenada and Trinidad. Jab Jab is a character of traditional mas and represents an expression of freedom. Grenada's Jab Jab traditions includes the Jab Jab music. Jab Jab music was influenced by soca, with many soca artists mentioning 'jab jabs' and 'jabmolassie.' But Grenada truly embraces the jab jab as this genre is considered 'an aggressive soca' where masqueraders go wild to the sound of jab jab music. Two of the genres most famous artists include, Tallpree and Mr. Killa.
Jab Jab music by Tallpree:
GUADELOUPE AND MARTINIQUE
Zouk
Zouk is a style of music and dance derived from Afro-Caribbean French creole culture of the lesser Antilles, Martinique, Guadeloupe, Dominica, and St. Lucia. Zouk had its initial beginnings in the French department of Guadeloupe and Martinique. It was pioneered and popularized by the band Kassav' in the early 1980s.
Popular Zouk Artists: Kassav', Zouk Machine, Francky Vincent
Zouk by Kassav':
Cadence Rampa 
Cadence rampa or is a dance music and modern méringue popularized in Haiti and the Caribbean by Haitian sax player Webert Sicot in the early 1960s. It spread to the French speaking Caribbean, Martinique and Guadeloupe and influenced Dominica's music.
Cadence Rampa by Webert Sicot: 
Kompa
Konpa or Kompa is a popular dance music in Haiti. Konpa is similar to zouk, cadence-lypso and cadence rampa. These genres are popular among the French-speaking Caribbean.
A Kompa Mix: 
Mento
Mento is a style of Jamaican folk music that predates and has greatly influenced ska and reggae music. It is a fusion of African rhythmic elements and European elements.
Mento: 
Ska
Ska is a music genre that originated in Jamaica in the late 1950s and was the precursor to reggae. It combined elements of Caribbean mento and calypso with American jazz and rhythm and blues.
Popular Ska Artists: The Skatalites, Toots and the Maytals
Ska by The Skatalites: 
Rocksteady 
Rocksteady is a music genre that originated in Jamaica in the late 60s. A successor of ska and a precursor to reggae, rocksteady was the dominant style of music in Jamaica before reggae and was performed by many of the artists who helped establish reggae.
Popular Rocksteady Artists: Alton Ellis, The Techniques, The Paragons
Rocksteady by Alton Ellis: 
Reggae
Reggae is a music genre that originated in Jamaica in the 60s. Reggae developed from Ska and combines native styles of music with elements of soul and rock. The genre of reggae music is  international and there are many new and upcoming artists exploring the genre. There is also music that is considered the subgenres of reggae, dub and ragga.
Popular Reggae Artists: Bob Marley, Peter Tosh, Dennis Brown, Chronixx
Click here to listen to a complete list of Bob Marley's songs.
Dancehall
Dancehall originated in Jamaica in the 1970s. This music genre was developed from reggae but has shifted into a different aspect of Jamaican's culture. Dancehall is named after Jamaican dance halls in which popular Jamaican recordings were played by local sound systems.
Popular Dancehall Artists: Vybz Kartel, Popcaan, Spice, Konshens
Dancehall by Vybz Kartel: 
Baithak Gana 
Baithak Gana is a form of music that originates from Suriname. This genre of music was developed due to the presence and influence of Indians in the Caribbean. It is a mix of Bhojpuri folk songs with other Caribbean influences. It shares similar elements to Chutney music. 
Popular Baithak Gana Artists: Dropati, Ramdew Chaitoe
Baithak Gana by Dropati:
Kaseko
Kaseko is a music genre created in Suriname that originated in the 1940s. Kaseko is folk style music and like many music genres created in the Caribbean, sounds are influenced by both the Africans and Europeans. Lieve Hugo is one of the pioneers of this genre is also known as the King of Kaseko. He helped popularise the genre in 1970s. Lyrics are in Dutch, Suriname's official language.
Popular Kaseko-singers: Ewald Krolis, Lieve Hugo
Listen to this live performance of Kaseko music. Enjoy!
Calypso 
Calypso is an Afro-Caribbean music genre that was created in Trinidad & Tobago. Calypso was developed from the West African influences of Kaiso and canboulay. Modern calypso became popular due to its association with Carnival. Calypso became the music that represents Carnival with the popularity of calypso competitions and the inclusion of calypso in Mas.
Popular Calypsonians: Lord Kitchener, Mighty Sparrow, Roaring Lion, Mighty Shadow
Calypso by Lord Kitchener: 
Soca
Soca is a genre of music that was developed in Trinidad and Tobago in the 1970s. The creator of soca, Ras Shorty I a.k.a Lord Shorty, defined it as the soul of Calypso, African and East Indian rhythms. Soca became popular in the latter half of the 20th century and now defines a part of Trinidad and Tobago and the Caribbean's culture. Soca is an important element to Carnival in the Caribbean.
Here's a list of 15 Caribbean soca artists.
Soca by Machel Montano: 
Extempo
Extempo is a lyrically improvised form of calypso. It consists of a performer improvising in song or in rhythmic speech on a given theme before. Improvisation and extempo lyrics tend to come from current events then treat with sarcasm, wit or flattery. Extempo is most notably practised in Grenada and Trinidad and Tobago. Up until 2006, Trinidad and Tobago featured a National Extempo Monarch in their Carnival festivities.
Most notable Extempo artist: Lord Pretender
Extempo by Lord Pretender: 
Rapso
Rapso is the poetic "rap" form of Trinbagonian music—the next evolutionary step of Calypso and Soca music. Rapso is a form of Trinidadian music that grew out of the social unrest of the 1970s. The Black Power Movement and unions grew in the 70s and rapso became popularised during this time.
Notable Rapso Artists: Lancelot Layne, Cheryl Byron, Brother Resistance
Rapso by Brother Resistance: 
Steelpan 
The steelpan was invented in Trinidad and Tobago and is widely regarded as the only major musical instrument to be invented in the 20th century. The steel drum was created by the use of oil drums during the time of high succession in the oil industry in Trinidad and Tobago. The steel pan is Trinidad and Tobago's national instrument and has become a huge part of the country's culture and has a main role within Carnival. An annual panorama is held in Trinidad and Tobago during the Carnival period.
Panorama Winners 2020: 
Chutney 
Chutney music is an Indo-Caribbean genre of music that developed in the southern Caribbean by the Indian indentured servants. It is popular in Trinidad and Tobago, Guyana, Suriname and other parts of the Caribbean. It is a mixture of Bhojpuri Music, with traditional Indian music influence and local influences. It is sung in both Bhojpuri/Hindi and English.
Popular Chutney Artists: Sundar Popo, Rakesh Yankaran, Rikki Jai, Devanand Gattoo
Chutney Music by Sundar Popo: 
Chutney Soca
Chutney soca is a cross between traditional chutney and the sounds of soca. With the invention of soca in the 70s, the crossover between these genres became more popular in the 80s and is still popular today. The elements of chutney and soca mixed, allowed it to become a popular genre that is also featured in Trinidad & Tobago's Carnival. In the 90s, the National Chutney Soca Monarch Competition was developed to showcase the musical talent and growth of this genre.
Popular Chutney Soca Artists: Ravi B, Rikki Jai, Heeralal Rampartap
Chutney Soca by Ravi B: 
Parang
Parang is a popular folk music originating from Venezuela and Trinidad and Tobago. It was brought to Trinidad and Tobago by Venezuelan migrants who were primarily of Amerindian, Spanish, Mestizo, Pardo, Cocoa panyol and African heritage. This is largely reflected in the music itself. Parang is sung in both Spanish and English. Parang is a seasonal genre in Trinidad and Tobago and is most popular at Christmas time.
Popular Parang Artists: Daisy Voisin, Sharlene Flores, The Lara Brothers
Parang by Daisy Voisin: 
Soca Parang
Soca parang is a fusion of soca and parang. Soca parang is a modern form to the traditional aspects of parang. Many calypsonians have contributed to this genre.
Popular Soca Parang Artists: Baron, Scrunter, Marcia Miranda
Soca Parang: 
Author:
Joie-Marie Poon-Angeron
Joie-Marie Poon-Angeron is a graduate of the University of the West Indies, Trinidad and Tobago. She holds a Bachelor of Arts in Communication Studies. Joie-Marie is passionate about the arts and culture. She loves the multi-cultural dimension of the Caribbean – whether it's music, film, art, food or fashion. She is the Social Media Engager at Leve Global and Exceptional Caribbean.
Here are Related Articles You Might Find Interesting

Share your thoughts with us. Leave a comment below.