Get to Know Peter Minshall – An Exceptional Caribbean Icon
Peter Minshall was a Creative Genius from Young
Peter Minshall is a creative genius who truly made his mark internationally. He is a 'Masman', creative designer, and has a way with words that can only be described as brilliant.
Peter Minshall, born in Georgetown, Guyana, was raised in Port of Spain, Trinidad. While growing up in Port of Spain, Peter was naturally exposed to Carnival at an early age. He designed his first Carnival costume at the age of 13 and there was no looking back after that. He was hooked.
Artistry at its Best
Minshall holds a diploma in Theatre Design from London's Central School of Art and Design. Peter Minshall, the 'masman' popularized the term 'mas' and the meaning behind it. There is an art of Mas and theatrics in Mas. His background in theatre and design has greatly influenced his works in Trinidad Carnival over the years.
Peter Minshall's definition of carnival is "where you see the music and listen to the Mas". Peter didn't just design costumes and Mas bands; he created a story that captivated onlookers.
In the 1990 Dimanche Gras, he designed legendary carnival king and queen pieces, "Tan Tan" and "Saga Boy," an unforgettable piece in Trinidad and Tobago's culture and history. Tan Tan and Saga Boy are credited by some, as the "best piece of Trinidadian artistry."
His Artistry tells the Caribbean Story
Master Masman Minshall is the master of his craft.  Minshall believes that Mas is a performance, an expression, a theatre piece.  Hence his creations always involved movement or dance.
Minshall truly embodies the Trinbagonian cultural art form that is Carnival. Trinidad and the Caribbean are a richly textured, multicultural society. His works are expressions of this rich culture and tapestry.
To define Mas is something that needs an encyclopedic response in a dozen volumes, Minshall has stated. "To play the Mas" or "to play Mas," you don't hear it anywhere else in the world, this terminology is unique to Trinidad, he has also stated. 
With carnival bands such as Paradise Lost, River, Rat Race, Hallelujah and many, many others, Minshall has won eight (8) Carnival band of the year titles: Paradise Lost (1976), Carnival of the Sea (1979), Jungle Fever (1981), Carnival Is Colour (1987), Hallelujah (1995), Song of the Earth (1996), Tapestry (1997), The Sacred Heart (2006; medium-size bands category). His 1995, 'Hallelujah' title was deemed controversial and blasphemous.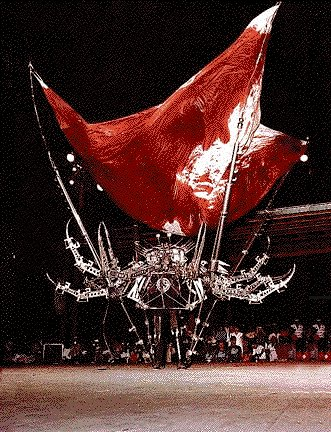 Peter Minshall Stamped His Mark in Bold Colour All Over the World
But Peter Minshall didn't only leave his mark on the Caribbean. He stamped his mark in bold colour across the international stage as well. He is the man behind the epic opening ceremonies of many international events – the 1987 Pan American Games; the 1992 Barcelona Olympics; the 1996 Atlanta Olympics; the 1994 Football World Cup; the 2002 Salt Lake City Winter Olympics; and at the opening ceremony of the ICC Cricket World Cup 2007.
And yes, Peter Minshall also designed the 'Air Dancer', the inflatable men that you see all across North America at street corners and in front of shopping malls.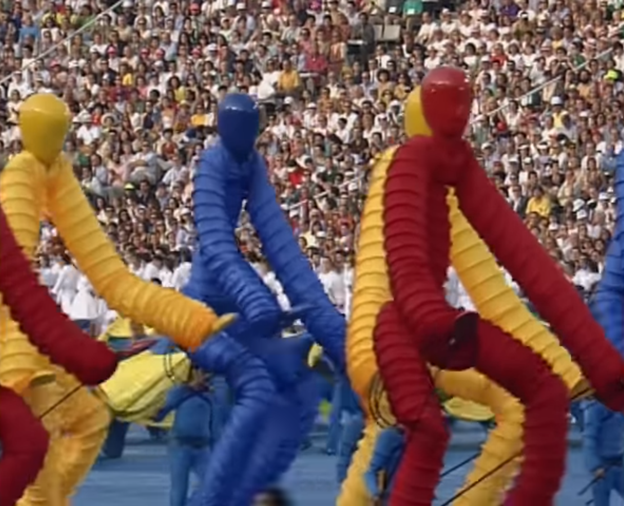 A Holder of Many Awards and Accolades
Minshall is also a man of many achievements and awards. He was awarded his Doctors of Letters from the University of the West Indies in 1991. He was awarded two of Trinidad's highest national medals, the Chaconia Silver Medal (1987) and the Trinity Cross (1996), for his extraordinary contributions in his field.
Peter Minshall is an iconic name to Trinidad and to Trinidad Carnival. He exudes the spirit of a true Carnival lover and Trinidadian.
Read more about Peter Minshall here.
Author:
Joie-Marie Poon-Angeron
Joie-Marie Poon-Angeron is a graduate of the University of the West Indies, Trinidad and Tobago. She holds a Bachelor of Arts in Communication Studies. Joie-Marie is passionate about the arts and culture. She loves the multi-cultural dimension of the Caribbean – whether it's music, film, art, food or fashion. She is the Social Media Engager at Leve Global and Exceptional Caribbean.
Here are Related Articles That Might Also Interest You