Caribbean Policy Development Centre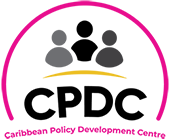 The Caribbean Policy Development Centre (CPDC) was established in 1991 and is a legally registered non-profit organisation headquartered in Barbados.
Since its establishment, the CPDC has been a voice for the NGO community and their beneficiaries on key socio-economic and other development issues. Through the engagement of regional and national policymakers, the CPDC has brought the plight of the most vulnerable groups in Caribbean society to the forefront in key policy fora and dialogue at the national, regional and international levels. The CPDC is cemented in its belief that development should be centred around the needs of the people and not purely by market forces and an influential minority of decision-makers within developed economies. From its inception, the CPDC has promoted the agenda and the plight of those at the grassroots level and has successfully represented the message of the average Caribbean citizen to regional and international policy spaces.
The organisation has evolved over its thirty years of existence to incorporate other critical roles that reflect the needs of the NGO sector today. For example, a significant component of the CPDC's work aims to build the requisite institutional capacity within the NGO community across the Caribbean. Capacity development support was prioritised in the early 2000s, which saw significant reductions in development assistance to the Caribbean NGO sector from western donors. The decline seen during that decade continues in contemporary times and has threatened the survival of a once vibrant development NGO community, resulting in a smaller and resource-scarce regional NGO sector. The CPDC's response to that serious challenge is the important work of maintaining the viability of NGOs.
The CPDC, with funding from diverse regional and international donor partners, has implemented numerous projects across selected thematic areas throughout its existence. In the past 30 years, the CPDC has worked with over 500 NGOs, labour unions and a few private sector agencies across the Caribbean region in 18 countries, spanning from Suriname and Guyana in the south, up the island chain, inclusive of Puerto Rico, Dominican Republic, Haiti and Cuba, to The Bahamas in the north. The CPDC also had founding NGO members in Belize and Nicaragua. The CPDC now stands as a recognised and well-respected organisation, with 30 years of experience of advancing social and economic development policies and programmes to improve the lives of Caribbean people. Amidst the myriad challenges confronting the region, the CPDC is well poised to continue to advance regional development from a people-centered perspective in the 15 CARIFORUM member states it serves.